The Original Tiger Kings
At the peak of their fame, they were arguably the most famous magicians since Houdini.
By Chris Jones and Michael J. Mooney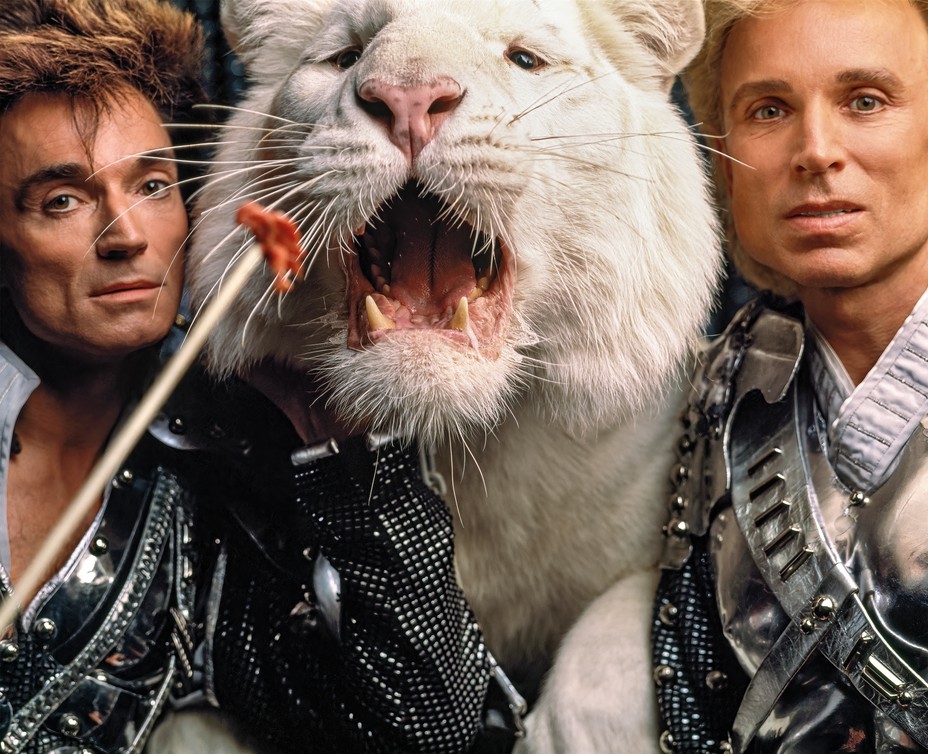 Siegfried & Roy photographed at their residence in Las Vegas, Nevada, 1991 (Mark Seliger / AUGUST)
The last survivors of a lost empire live behind the Mirage, in Las Vegas, out back by the pool. On a good day, Siegfried & Roy's Secret Garden will draw more than 1,000 visitors, the $25 adult admission fee justified mostly by the palm shade and tranquility it offers relative to the mania outside its walls. There are also long summer stretches when it's 100 degrees and things get a little grim. During a recent visit, only a few families strolled through, surveying the five sleeping animals on display: three tigers, a lion, and a leopard. The Secret Garden ostensibly operates as an educational facility. "Look, a lion," one young father said to his son, while pointing at a tiger.
Yet residual magic remains. The best time to visit is late afternoon, just before closing, when the heat has started to subside and the sleeping cats stir. If you're lucky—in this city built on the premise that you, against all odds, will be lucky—a tiger will roar when you're standing nearby. A tiger's roar is more than audible. You feel it in your chest, in your teeth, in the prickles of your skin. And if you turn to look at its source, you might catch a tiger's gaze, its haunting eyes staring into yours, tracking your every move, knowing what you're about to do before you do it.
At the peak of their particular and possibly extinct brand of celebrity, Siegfried & Roy were arguably the most famous magicians since Houdini. They were without question the most famous German magicians performing with a large collection of apex predators. Depending on when you enter and exit their story, it's either triumphant or tragic, surprising or inevitable. It can serve as a testament to the power of lies, including the ones we tell ourselves, or a cautionary tale about fiction's limits, especially when fact takes the form of a fed-up tiger. Now it's about to reach its sad, instructive conclusion, the way so many modern fables end: with a corporate takeover.
[ click to continue reading at The Atlantic ]