Home Is Burning: the profanity-laced terminal illness memoir with fart jokes
Dan Marshall's book about his father's death – while his mother was stricken with cancer – is possibly the most scatalogical memoir of its kind ever, and now Hollywood has come knocking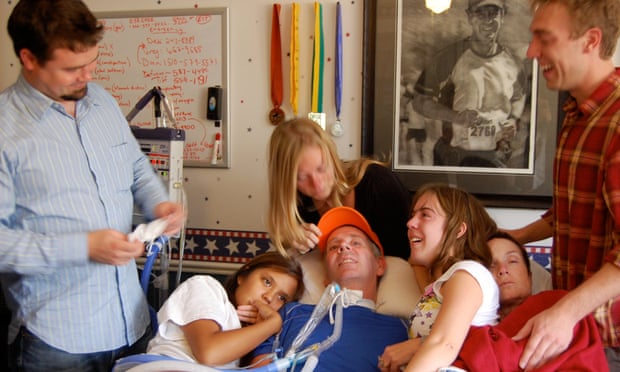 Dan Marshall sips an iced coffee under a Los Angeles sun and mulls the notion of Hollywood sanitising his memoir, the story of how he and his siblings dealt with terminally ill parents during an anguished year in the Mormon capital of Salt Lake City. Marshall shakes his head and gives a faint smile. "It'd tear the balls off the thing if they made it PG-13."
It would indeed. Home Is Burning, published this month and due to be made into a film, dives deep into the pain and grief of caring for a father who slowly wastes away, and a mother who hovers close to death. It also plumbs the cacophonous dysfunction of a family stumbling through the ordeal with black humour, fart jokes, painkillers, booze, feuds, sex and swearing – epic, ungodly, obscene, unrepentant, relentless swearing.
"It'll have to be R-rated," says Marshall. "There's a lot of death and dying but with South Park humour applied to normally difficult and sentimental situations. I'm making jokes about wiping my dad's ass."
The 300-page memoir jokes about everything: the cruelty of amyotrophic lateral sclerosis (ALS), also known as Lou Gehrig's disease, which killed Bob Marshall in 2008; the brutal side effects of Debi Marshall's cancer treatment; the vicious sibling arguments; the pious Mormon neighbours.
One unforgettable section details Debi's declaration that she will perform oral sex on her husband – by then confined to a bed and respirator – daily until he dies. "My mom was beyond proud of the blow-job-a-day goal. I don't know if it was because she was all fucked up on Fentanly or what, but she seemed to bring it up any chance she got. 'A blow job a day. Not a bad deal,' I heard her explain to a visitor. 'You wouldn't think it, but his penis is still strong.'"
The Marshall clan is barging into a terminal illness genre rife with sentimentality – think The Fault in Our Stars, Before I Die, Tuesdays with Morrie – with a unique strain of profane, scatological humour. Prominent memoirists have endorsed Home Is Burning. James Frey, author of A Million Little Pieces, called it hilarious and heartbreaking. Justin St Germain, author of Son of a Gun, deemed it self-aware and ruthlessly honest: "Dan Marshall might be a self-described spoiled white jerk, but he's also a depraved comedic genius." Publishers Weekly called him the literary love child of Dave Eggers and David Sedaris.
In person Marshall, 33, is softly spoken, almost shy. He mocks himself in the memoir as a dumpy, boozy, gummy bear-chomping screw-up. But the figure who settles into the corner of a restaurant terrace, seeking shade on a baking afternoon, is somewhat reformed. He has quit drinking, jogs and has, by his own measure, matured.