Back to the land: are young farmers the new starving artists?
by Lucia Graves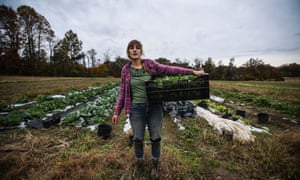 Liz Whitehurst, owner of Owl's Nest Farm outside of Washington DC, in one of her fields. Photograph: JM Giordano for the Guardian
A small but growing movement of millennials are seeking out a more agrarian life but the reality of life on the land is not always as simple as they hoped
Eight years ago, Liz Whitehurst, then 25, was working in digital communications at a policy organization in Washington DC and dreaming of life outside a cubicle. She started exploring a different kind of existence by volunteering on local farms. When the farmer who provided the locally sourced vegetable box she signed up for invited her to work the fields one day, she was starstruck. "You're my hero," she recalls telling the farmer. "I want your life."
Today, she has it. Whitehurst grows a wide array of produce on Owl's Nest Farm, set on a few acres in Upper Marlboro, Maryland (she bought it from that same farmer). Whitehurst grows sweet potatoes, peppers, tomatoes, cucumbers and squash – everything is handpicked. She also provides greens to a local pizza kitchen which was recently named one of the best new restaurants in the country.
She runs the farm with two other millennials: Foster Gettys, 29, who lives on the property with half a dozen chickens as pets, and Sara Policastro, 23, who manages the farm's small rotation of volunteers.
Whitehurst likes the autonomy. She likes being outside. She likes having visible proof of her efforts at the end of the day. "You can see the thing you accomplished – you weeded the bed," she says. "And in an office it's like, 'Oh I sent all those emails.'"