The Battle for the Moon Begins
An increasing number of nations and companies are headed there. One group says the UN needs to start making more rules before it's too late.
By Justin Bachman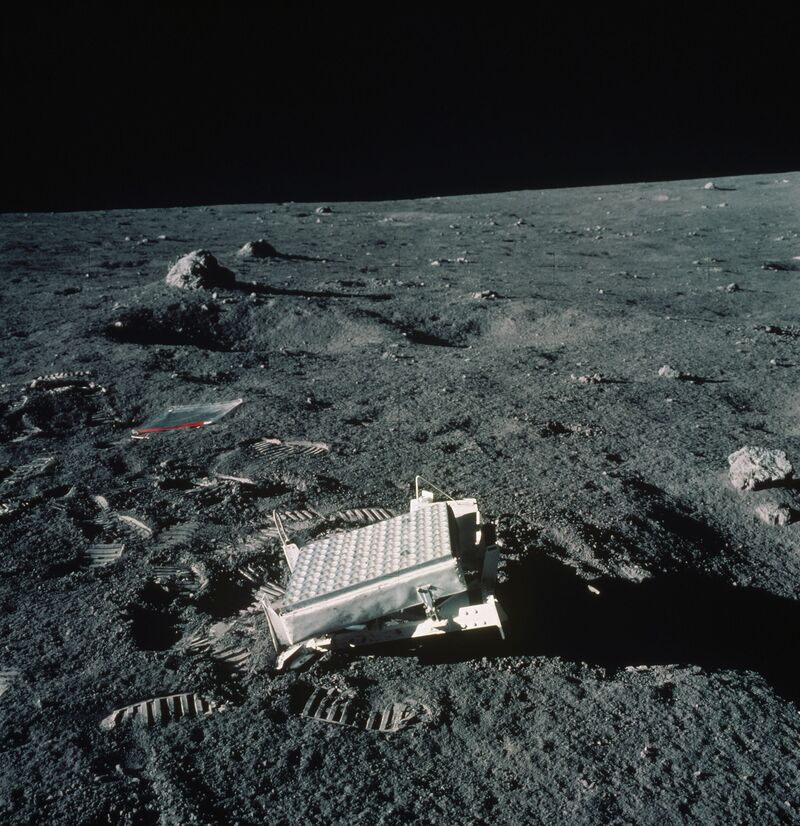 A laser reflector was left on the moon for scientists to use as a measuring device. Photographer: NASA/Roger Ressmeyer/Corbis/VCG via Getty Images
On the 48th anniversary of Neil Armstrong setting foot on the moon, an Illinois attorney hopes to pocket as much as $4 million at a Sotheby's auction of a bag that Apollo 11 astronauts filled with rocks.
The bag's history is as interesting as its travels: the U.S. government accidentally sold it in 2015, then fought the buyer, Nancy Lee Carlson, a suburban Chicago lawyer, to reclaim it. The feds lost that case last year and ceded the bag to Carlson, who is selling it Thursday.
The legal kerfuffle concerns the disposition of an important cultural item that NASA and others don't believe should be in private hands. Spurred by the auction, a curiously named nonprofit called For All Moonkind is pushing the United Nations to protect the six Apollo landing sites and lunar items such as the bag.
"What we need to do is to create, basically, a Unesco for space," said Michelle Hanlon, a Connecticut attorney who is leading the effort, referring to the UN world heritage designation.
But as important as securing symbols of that first foray to a celestial body may be, the fight is a small illustration of the potential exploitation to come. As more nations and companies plan missions to the moon, the real fear isn't of some spacefaring Indiana Jones so much as the impacts of numerous lunar landings or, say, a massive mining operation.