Vintage typewriters gain fans amid 'digital burnout'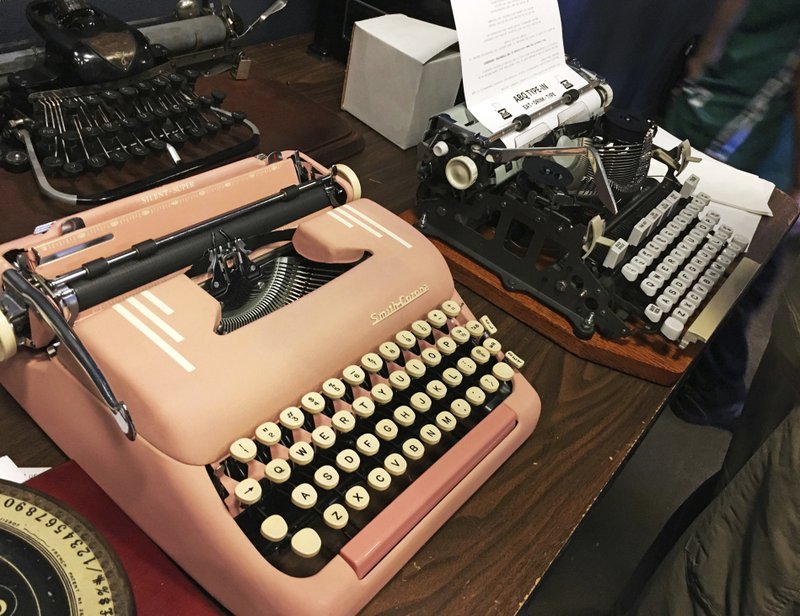 In this April 23, 2017 photo, vintage typewriters are on display at a "type-in" in Albuquerque, N.M. "Type-ins" are social gatherings in public places where typewriter fans test different vintage machines. The vintage typewriter is making a comeback with a new generation of fans gravitating to machines that once gathered dust in attics and basements across the country. (AP Photo/Russell Contreras)
ALBUQUERQUE, N.M. (AP) — Typewriter enthusiasts gather at an Albuquerque restaurant to experiment with vintage Smith Coronas. Fans in Boston kneel in a city square and type stories about their lives during a pro-immigration demonstration. A documentary on typewriters featuring Tom Hanks and musician John Mayer is set for release this summer.
In the age of smartphones, social media and hacking fears, vintage typewriters that once gathered dust in attics and basements are attracting a new generation of fans across the U.S.
From public "type-ins" at bars to street poets selling personalized, typewritten poems on the spot, typewriters have emerged as popular items with aficionados hunting for them in thrift stores, online auction sites and antique shops. Some buy antique Underwoods to add to a growing collection. Others search for a midcentury Royal Quiet De Luxe — like a model author Ernest Hemingway used — to work on that simmering novel.
The rescued machines often need servicing, leading fans to seek out the few remaining typewriter repair shops.
"I haven't seen business like this in years," said John Lewis, a typewriter repairman who has operated out of his Albuquerque shop for four decades. "There's definitely a new interest, and it's keeping me very busy."