La Casa Azul Goes for the Green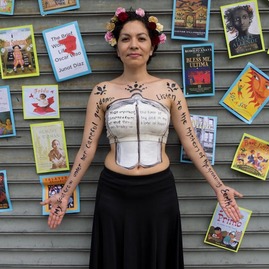 Aurora Anaya-Cerda, who founded La Casa Azul Bookstore online in 2008, has launched a campaign to raise $40,000 in 40 days to open a bricks-and-mortar store in East Harlem in New York City. A donor will match the money raised.
The 40K in 40 Days campaign is intended to finance inventory, fixtures and café equipment and, most important, provide the deposit for the retail space, all of which would allow La Casa Azul Bookstore to open its doors next year. Incentives for the campaign, which is being conducted on indiegogo.com, include gifts such as autographed books, T-shirts and naming a bookshelf. All donors will automatically become Founders' Circle members and their names will be added to the store's donor wall.
For 10 years, Anaya-Cerda has worked and volunteered in six bookstores, taken many business classes, attended two booksellers schools and traveled around the country studying bookstores and meeting with authors and publishers. The bricks-and-mortar store, she said, will offer author signings, book clubs, story times for children and a community meeting space. The store will sell new and used books, coffee, pastries, art, clothing and locally made cards and gifts.
Since the online store was established, La Casa Azul Bookstores has hosted more than 60 events in local cultural institutions, schools and cafes. The bookstore also established the annual East Harlem Children's Book Festival and works with schools and non-profit organizations to promote literacy.
On her website, Anaya-Cerda wrote, "I need your help to get this project off the ground. Help me establish La Casa Azul Bookstore in East Harlem to continue connecting people, books, and the ideas they bring together. I can't do this work without you."