My New York: 20 Questions For 'Shoplifting From American Apparel', 'RICHARD YATES' Author Tao Lin
The Huffington Post  Christopher Mathias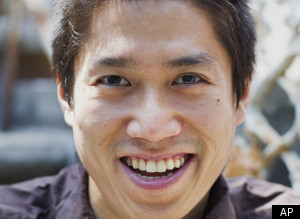 Age: 27
Current Gig: I honestly don't know, maybe "author." [Follow Tao on twitter here, and buy his latest book RICHARD YATES here].
Neighborhood: Off the Graham L train stop, I think it's technically Williamsburg.
Years In New York: 10, I think.
Who is your favorite New Yorker, living or dead? I like Woody Allen. I'm not thinking of anyone else when I think "New Yorker." I think I view almost everyone as "from the internet" now.
Your perfect New York date? Eating dinner at Sel De Mer after ingesting Xanax then walking a little before going to my apartment to do things on the internet, shower, drink green juice, have sex, sleep.
What's your drink? I like unpasteurized coconut water.
Favorite bookstore? St. Mark's Bookshop maybe.
The best reading or lecture you've attended in New York? The most memorable was maybe Matthew Rohrer, James Frey, and [someone else] in something like 2006 at an NYU reading. I first learned of Matthew Rohrer then. I liked James Frey's reading. He left right after reading to, I think, go home to his baby or small child.