Eli Gottlieb's top 10 scenes from the battle of the sexes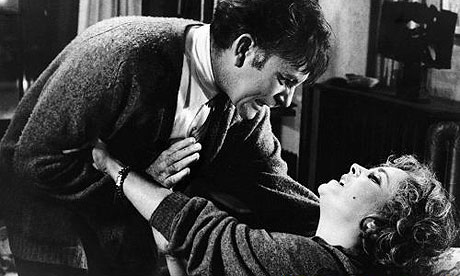 Eli Gottlieb's debut novel, The Boy Who Went Away, won the Rome prize and the McKitterick prize. He began his career as a poet in New York, worked for US Elle magazine, then lived in Italy for six years.
Now You See Him is his second novel, published after a 10-year gap. It is published by Serpent's Tail, priced £9.99
Buy Now You See Him from the Guardian bookshop
1. The Short Happy Life of Francis Macomber by Ernest Hemingway
From the last great phase of his writing life, and fully in command of his resources, the old boy here draws the clearest lines he ever has between the genders, and makes it all explicit: love is combat. The gorgeous descriptive prose doesn't conceal the preposterous archness with which the main characters – a middle-aged couple at war while on safari in Africa – assault one another. But if their dialogue grates on our modern ears, we should remember that people, in Hemingway's thrall, were actually – incredibly – talking to each other like this for a brief few years.
2. Herzog by Saul Bellow
Arguably his most perfectly achieved book (Auden told him it's only fault was it was too well-written) it's also a novel of paybacks for real-world slights. That may account for the prussic acid nastiness with which the adulterous lovers at the heart of the book are depicted. Bellow stands quite justly accused of writing somewhat one-dimensional female characters, but the dialogues between the power-mad bluestocking wife and the thwarted professor-husband, are fabulously, irresistibly mean-spirited.
3. Sylvia by Leonard Michaels
Michaels is finally getting his posthumous due as one of the prose masters of the 20th century. This thinly novelized memoir of living with a batty, argumentative, hyperneurotic and compulsively sexual Jewish coed in 1960s Manhattan has some of the great inter-gender firefights in contemporary literature. The book mesmerises like a bad accident. Not until you're done, shaken and exhausted, do you realise how much art went into its making.
4. A Severed Head by Iris Murdoch
The characters natter on like Bloomsbury mannequins, but the scrupulousness with which Murdoch records every jot and tittle of a cuckold's (and adulterer's) inner life is astonishing. The narrator struggles for the length of the book in the coils of his ultra-understanding wife and her American shrink lover (and his sister, the significantly named Honor Klein), and Murdoch's touch is light but scalpel-keen throughout.