Earth Vulnerable to Major Asteroid Strike, White House Science Chief Says
By Mike Wall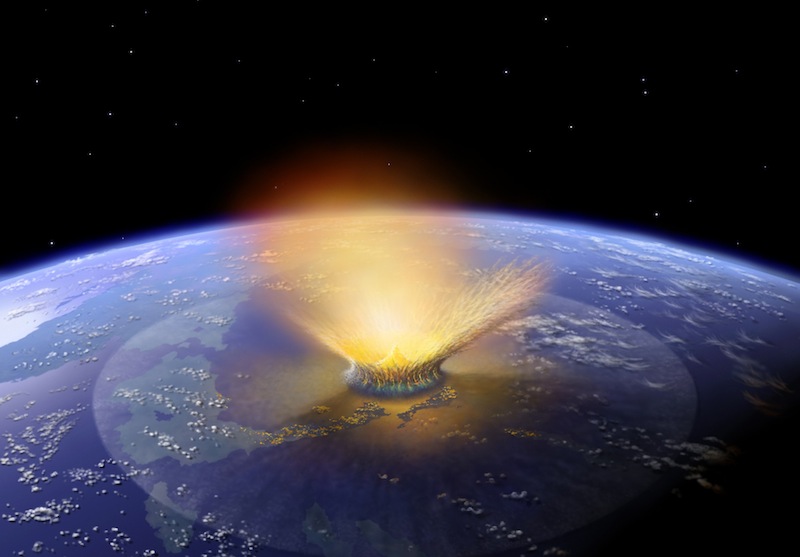 Artist's concept of an asteroid striking Earth.
Credit: NASA/Don Davis
The world is still vulnerable to a potentially catastrophic asteroid strike, according to President Barack Obama's chief science adviser.
NASA has made substantial progress in finding the asteroids that pose the biggest threat to Earth, but there's still a lot of work to do, said John Holdren, director of the White House's Office of Science and Technology Policy.
"We are not fully prepared, but we are on a trajectory to get much more so," Holdren said today (Sept. 14) at NASA's Goddard Space Flight Center, during a discussion of the agency's planned Asteroid Redirect Mission (ARM). [Images: Potentially Dangerous Asteroids]
Holdren cited the February 2013 meteor explosion over the Russian city of Chelyabinsk and the 1908 Tunguska airburst as reasons to take the asteroid threat seriously.
The Chelyabinsk strike, which injured about 1,200 people, was caused by an object that is thought to be about 65 feet (20 meters) wide. The Tunguska event was much more powerful; a space rock perhaps 130 feet wide (40 m) exploded over a mostly unpopulated region of Siberia, flattening 800 square miles (2,070 square kilometers) of forest. Both strikes caught the world completely by surprise.