James Deen: The Tom Cruise of porn
Adored by young women for his clean-cut image, this male porn star has been named as the likely lead actor in Bret Easton Ellis's forthcoming film. But can an adult entertainer ever  make a successful transition to Hollywood?
by Edward Helmore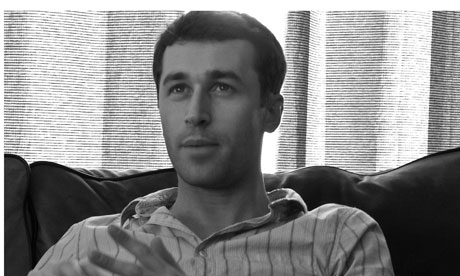 Deen's All-American appeal may aid a move to the mainstream. Photograph: Gideon Ponte
Earlier this week, Bret Easton Ellis announced his intention to cast a male porn star as the lead in The Canyons, a new film noir to be directed by Paul Schrader, the screenwriter of Taxi Driver and director of American Gigolo.
Ellis had long been an admirer of James Deen, who is striking because of his unusual appeal to young women – not generally key consumers of porn. When the two men met in January, they bonded over being unlikely poster boys: "He ordered a salad and we chatted amiably about the unearned feminist hysteria we both received at certain points in our careers," Ellis tweeted.
Deen, 26, was recently featured on ABC's Nightline in a segment asking if the nation knows that its daughters increasingly view him as a consort in their romantic fantasies. That Nightline saw fit to give him air time – the show is a rough equivalent of Newsnight – was further evidence either that the mainstream is more ready to accept adult entertainment performers on its turf, or that adult entertainment is itself becoming more mainstream.
"He's exactly the guy I was thinking of," says Ellis. "He's accessible and represents the democratisation of our culture. He's not some hot-blooded, super-tanned caveman pumping it — he's a cute boy you could have gone to college with."