A New Origin Story for Dogs
The first domesticated animals may have been tamed twice.
by ED YONG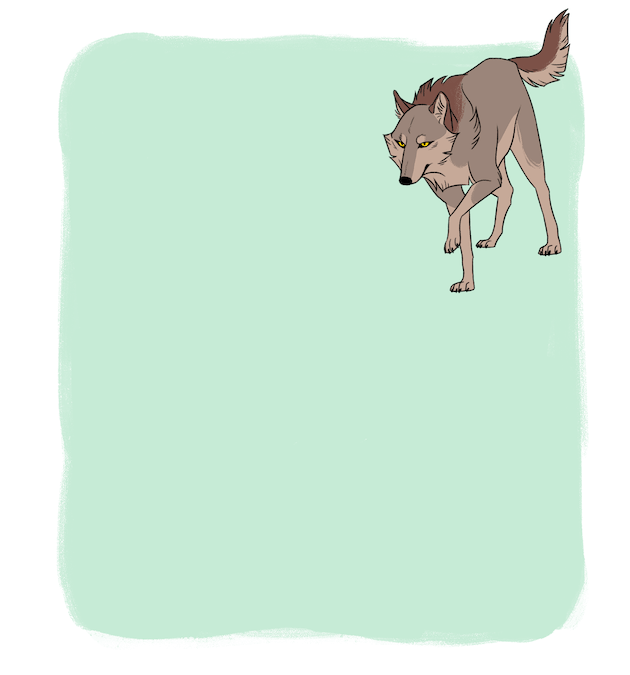 Katie Salvi
Tens of thousands of years ago, before the internet, before the Industrial Revolution, before literature and mathematics, bronze and iron, before the advent of agriculture, early humans formed an unlikely partnership with another animal—the grey wolf. The fates of our two species became braided together. The wolves changed in body and temperament. Their skulls, teeth, and paws shrank. Their ears flopped. They gained a docile disposition, becoming both less frightening and less fearful. They learned to read the complex expressions that ripple across human faces. They turned into dogs.
Today, dogs are such familiar parts of our lives—our reputed best friends and subject of many a meme—that it's easy to take them, and what they represent, for granted. Dogs were the first domesticated animals, and their barks heralded the Anthropocene. We raised puppies well before we raised kittens or chickens; before we herded cows, goats, pigs, and sheep; before we planted rice, wheat, barley, and corn; before we remade the world.
"Remove domestication from the human species, and there's probably a couple of million of us on the planet, max," says archaeologist and geneticist Greger Larson. "Instead, what do we have? Seven billion people, climate change, travel, innovation and everything. Domestication has influenced the entire earth. And dogs were the first." For most of human history, "we're not dissimilar to any other wild primate. We're manipulating our environments, but not on a scale bigger than, say, a herd of African elephants. And then, we go into partnership with this group of wolves. They altered our relationship with the natural world."
Larson wants to pin down their origins. He wants to know when, where, and how they were domesticated from wolves. But after decades of dogged effort, he and his fellow scientists are still arguing about the answers. They agree that all dogs, from low-slung corgis to towering mastiffs, are the tame descendants of wild ancestral wolves. But everything else is up for grabs.
Some say wolves were domesticated around 10,000 years ago, while others say 30,000. Some claim it happened in Europe, others in the Middle East, or East Asia. Some think early human hunter-gatherers actively tamed and bred wolves. Others say wolves domesticated themselves, by scavenging the carcasses left by human hunters, or loitering around campfires, growing tamer with each generation until they became permanent companions.