Truth and dare
At nearly 90, the painter Maria Lassnig is producing the most confrontational work of her life. She talks to Adrian Searle

In pictures: Maria Lassnig's new exhibition 

Thursday April 24, 2008
The Guardian 
You or Me by Maria Lassnig. Courtesy the artist, Hauser & Wirth Zürich London and Friedrich Petzel Gallery, New York © 2008 Maria Lassnig
The painter greets us, naked. She holds a gun to her own head, and aims another at her spectators. Maria Lassnig, approaching 90, might be trying to tell us something. You or Me is the title of this self-portrait, painted in 2005 and the first thing you see in her exhibition at the Serpentine Gallery in London. As well as an introduction, the painting is a test: bolt and run, or stay and face the consequences. I plunged right in. 
Born in Austria in 1919, Maria Lassnig is little known in this country. This exhibition of her awkward, confrontational, strange and tender paintings is her first show in a public space in Britain. Lassnig's works have sometimes been regarded as pathological caricatures. In Austria, one might almost take this as a compliment, or a sign of her authenticity. Lassnig, on the other hand, insists that her art is completely rational.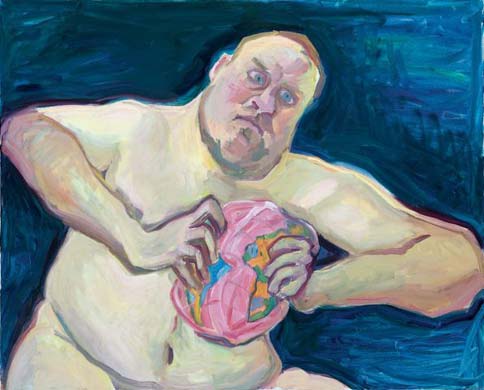 I sat with her among her paintings, some still being positioned on the walls, and she told me she often begins with no idea in mind at all. Nevertheless, there are constant themes. War, love, the battle of the sexes, the subjective experience of the body. Most of all, the body: dressed, undressed, veiled in plastic, malleable, devilish, sexual, grotesque. In one recent painting, a man pulls himself upwards on a gymnast's rings – "I hate sport," Lassnig remarks – and in another, someone gets tangled in plastic sheeting. There's comedy here, but it never comes unalloyed.