The Astonishing Greatness of Serena Williams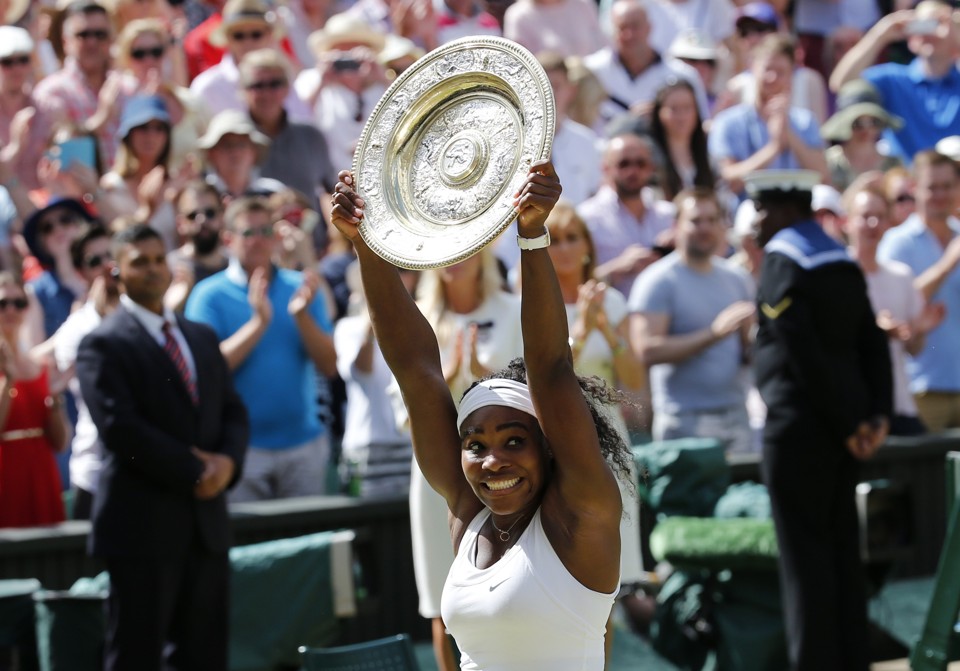 After winning her fourth consecutive Grand Slam title on Saturday at Wimbledon, the tennis star has become one of the most accomplished American athletes of all time.
No major sport—with the possible exception of gymnastics or swimming—worships youth like tennis. The best athletes in basketball, soccer, football, and baseball tend to reach their peak in their mid-20s, an age when experience, physical strength, and wisdom converge. But the arc of a typical professional tennis career tends to resemble that of a pop star: Ascendant at 17, dominant at 21, washed up and finished by 30.
Serena Williams, too, was a teenage tennis prodigy, a precocious girl following her older sister Venus from Compton, California, to the sport's greatest stage. In 1999, the 17-year-old Williams won her first Grand Slam title, defeating Martina Hingis at the U.S. Open. More championships would soon follow, and before long Serena was mentioned in the same breath as the sport's greats. King. Navratilova. Evert. Graf. Williams.
But Serena, unlike the others, has forgotten to go into decline. On Saturday, the 33-year-old Williams defeated Garbine Muguruza 6-4, 6-4 to win her sixth Wimbledon title, concluding her 28th consecutive victory in a Grand Slam match. To the casual fan, another Serena victory has the shock value of a Meryl Streep Oscar nomination. But it's worth pausing, if just for a moment, to consider just how remarkable Williams' career has been.