Things really must be bad – AC/DC are No 1 again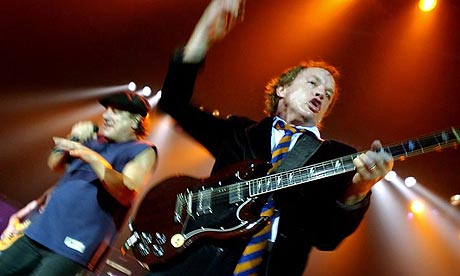 Those keen to draw wider inferences from its success might note that the last time AC/DC made No 1 in Britain, the country was on the brink of recession. Back In Black, the album that marked their commercial breakthrough and went on to become the second biggest-selling of all time, was released in 1980, just as inflation had reached 20% and unemployment inched towards 2 million.
When the economy recovered, AC/DC's popularity receded.
AC/DC's appeal in unpredictable times is straightforward. People crave something uncomplicated and dependable in a time of uncertainty, and rock music has never produced a band so uncomplicated and dependable as AC/DC.
For 35 years, they have done exactly the same thing – which in guitarist Angus Young's case involves dressing like a naughty schoolboy – unaffected by changes in fashion or band personnel.
Not even the death of lead singer Bon Scott could stop AC/DC cranking out hard-edged, wilfully basic blues-rock, decorated with lyrics in which the phrase "rock 'n' roll" figures heavily, but not as heavily as sniggering innuendo about scrotums.
Western capitalism might collapse but at least Young can be relied on to perform a song about either rock and roll or testicles while wearing shorts, blazer and cap. Alas, what he can't be relied on to do is support those who delve into the sociological implications of AC/DC's appeal. "What we do, you're not going to look into it with depth, y'know," he suggested recently . "Because if you look into it with depth, you're not going to get it."
Highway to hell
1973: AC/DC form in Sydney, Australia.
Economy: Start of the oil crisis, which saw the price quadruple
1980: AC/DC release breakthrough album Back In Black
Economy: Inflation in UK reaches 20% and unemployment nears 2 million
1990: AC/DC score comeback with The Razor's Edge
Economy: Recession in UK imminent
2008: AC/DC top UK album charts
Economy: Biggest world recession in decades looms