Mysterious lake in Tunisian desert turns from turquoise to green sludge
The stretch of water, dubbed the Lac de Gafsa, may be the result of a rupture in the rock above the local water table
by Kim Willsher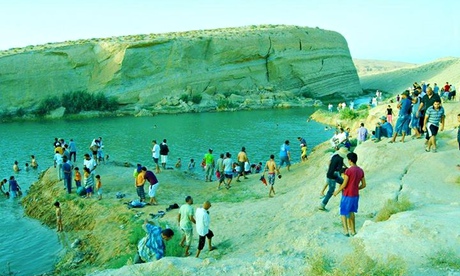 There are plenty of places to dive but apparently no women swimming. Photograph: Facebook
The lake appeared in the Tunisian desert like a mirage; one minute there was nothing but scorching sand, the next a large expanse of turquoise water.
For locals, roasting in the 40C heat, the temptation to cool off in the inviting water quickly overcame any fears about the mysterious pool.
Hundreds flocked to what quickly became known as the Lac de Gafsa or Gafsa beach to splash, paddle, dive, and fling themselves from rocks into the lake, ignoring warnings that the water could be contaminated with carcinogenic chemicals, riddled with disease or possibly radioactive. Even after the water turned a murky green, they arrived in droves, undeterred.
"Some say it is a miracle, while others are calling it a curse," Lakhdar Souid, a Tunisian journalist, told France 24 television.