Sacked gardener poisoned plants after feud with retired judge's wife, court told
Edward Hancock denies spraying weedkiller on the former high court judge Sir Richard Tucker's garden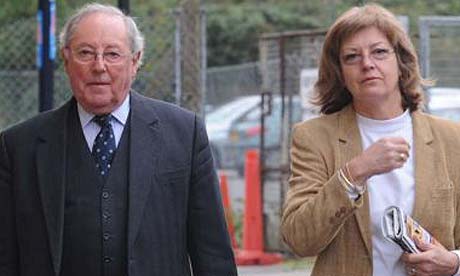 An angry gardener poisoned a retired high court judge's plants after being sacked due to a "clash of egos" with the judge's wife, a court heard today.
Edward Hancock, 45, is accused of spraying weedkiller on Sir Richard Tucker's garden in Stanton, Worcestershire, after a 20-year feud with Lady Jacqueline, a garden designer.
Their relationship reached breaking point in April and he was fired via a note left on his van after failing to turn up for work on the £1.5m property, Gloucester magistrates court heard. A month later, Tucker, 77, and his third wife returned from a holiday to find their lawn had turned orange.
The gardener, of Northway, Tewkesbury, denies a charge of causing damage worth £500 to flower borders and a grass verge.
Giving evidence, Tucker, who presided over high-profile cases such as the Polly Peck fraud trial, said Hancock was a "good country gardener" but was volatile. He accepted there had been a clash of egos between the gardener and Lady Tucker, and said: "There have been times when my wife had said 'it's either him or me'."
The retired judge said of Hancock: "I got on with him perfectly well but he had to be held with velvet gloves because he was very temperamental and sometimes moody. He worked one day a week, always on Wednesdays. In the latter years he became very moody and his attitude to my wife became very aggressive.
"They found it difficult to communicate with each other. A lot of the time she was in London and they didn't meet, but on April 16 there came a time when they had words."