Picasso, Matisse and Dix among works found in Munich's Nazi art stash
Art historian describes 'incredible joy' at seeing previously unknown works among 1,406 found at home of Cornelius Gurlitt
by Philip Oltermann in Berlin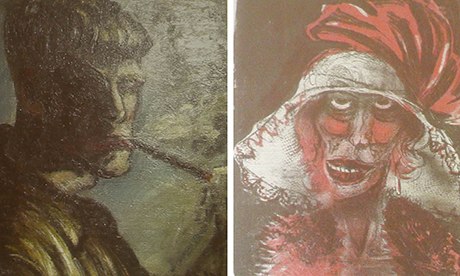 A combination of two formerly unknown paintings by German artist Otto Dix found among the trove of modern art seized by the Nazis Photograph: Michael Dalder/Reuters
An art haul confiscated from a Munich flat includes previously unknown works by Marc Chagall and Otto Dix, and original pieces by Henri Matisse and Pablo Picasso, Bavarian authorities have revealed.
The art historian who has been studying the collection since its discovery gave a first glimpse of the treasure trove, which includes modernist works as well as older pieces dating back as far as the 16th century, at a press conference in Augsburg, southern Germany.
Treasures discovered during a raid on Cornelius Gurlitt's flat in Schwabing include a total of 1,406 works – 121 of them framed – by Franz Marc; Oskar Kokoschka; Henri de Toulouse-Lautrec; Max Liebermann; Ernst Ludwig Kirchner; Max Beckmann; Albrecht Dürer; a Canaletto sketch of Padua; a Carl Spitzweg etching of a couple playing music; a Gustave Courbet painting of a girl with a goat; and drawings and prints by Pablo Picasso.
Art historian Meike Hoffmann, of the Free University of Berlin, said the art world would be particularly excited about the discovery of a valuable Matisse painting from around 1920 and works that were previously unknown or unseen: an Otto Dix self-portrait dated around 1919, and a Chagall gouache painting of an "allegorical scene" with a man kissing a woman wearing a sheep's head.