Discovery of 50km cave raises hopes for human colonisation of moon
Japan says lunar chasm measuring 50km long and 100 metres wide could be used as a base for astronauts and their equipment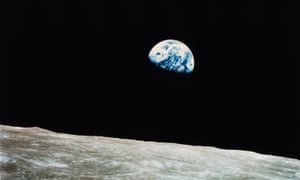 Earth rises over the lunar horizon. Photograph: Historical/Corbis via Getty Images
Scientists have fantasised for centuries about humans colonising the moon. That day may have drawn a little closer after Japan's space agency said it had discovered an enormous cave beneath the lunar surface that could be turned into an exploration base for astronauts.
The discovery, by Japan's Selenological and Engineering Explorer (Selene) probe, comes as several countries vie to follow the US in sending manned missions to the moon.
Using a radar sounder system that can examine underground structures, the orbiter initially found an opening 50 metres wide and 50 metres deep, prompting speculation that there could be a larger hollow.
This week scientists at the Japan Aerospace Exploration Agency (Jaxa) confirmed the presence of a cave after examining the hole using radio waves.
The chasm, 50km (31 miles) long and 100 metres wide, appears to be structurally sound and its rocks may contain ice or water deposits that could be turned into fuel, according to data sent back by the orbiter, nicknamed Kaguya after the moon princess in a Japanese fairytale.