Magazine says it is first to use 'foil-and-ink' cover treatment.
Dylan Stableford FolioMag.com
08/19/2008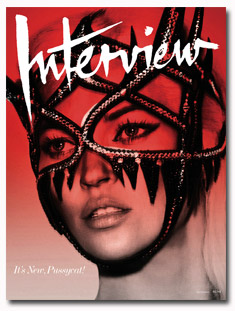 Interview, the Andy Warhol-founded magazine that has seen a number of editorial and staffing changes since its longtime editor-in-chief, Ingrid Sischy, left the magazine, is set to unveil a redesign next week.
The new-look Interview—hitting newsstands August 26—is bigger (13" X 10" from the current 12" X 10") perfect bound and uses a heavier stock. Most notably, the September issue features a striking foil-and-ink cover—the first North American magazine to do so, the company says. It will carry 140 ad pages, a 10.8 percent increase over the September 2007 issue, which carried 128.
In June, Brant Publications laid off four employees[0] as part of a restructuring effort. Brant, which also publishes Magazine Antiques and Art in America, employs about 85 people.
Sischy, who had served as Interview editor-in-chief since 1990, left the magazine in late January after former Brant Publications co-owner Sandra Brant decided to sell her stake in the company.
---
Read the Story and Comment Now Online: