Same old, same old. How the hipster aesthetic is taking over the world
Industrial furniture, stripped floors and Edison bulbs: why must we aspire to such bland monotony?
By Kyle Chayka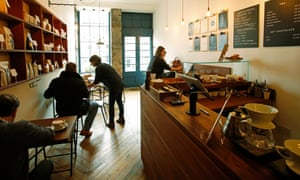 The Fortitude Coffee shop in Edinburgh. Photograph: Murdo MacLeod for the Observer
Go to Shoreditch Grind, near a roundabout in the middle of London's hipster district. It's a coffee shop with rough-hewn wooden tables, plentiful sunlight from wide windows, and austere pendant lighting. Then head to Takk in Manchester. It's a coffee shop with a big glass storefront, reclaimed wood furniture, and hanging Edison bulbs. Compare the two: You might not even know you're in different spaces.
It's no accident that these places look similar. Though they're not part of a chain and don't have their interior design directed by a single corporate overlord, these coffee shops have a way of mimicking the same tired style, a hipster reduction obsessed with a superficial sense of history and the remnants of industrial machinery that once occupied the neighbourhoods they take over. And it's not just London and Manchester – this style is spreading across the world, from Bangkok to Beijing, Seoul to San Francisco.
It's not just coffee shops, either. Everywhere you go, seemingly hip, unique spaces have a way of looking the same, whether it's bars or restaurants, fashion boutiques or shared office spaces. A coffee roaster resembles a WeWork office space. How can all that homogeneity possibly be cool?
In an essay for the American tech website The Verge, I called this style "AirSpace". It's marked by an easily recognisable mix of symbols – like reclaimed wood, Edison bulbs, and refurbished industrial lighting – that's meant to provide familiar, comforting surroundings for a wealthy, mobile elite, who want to feel like they're visiting somewhere "authentic" while they travel, but who actually just crave more of the same: more rustic interiors and sans-serif logos and splashes of cliche accent colours on rugs and walls.