"We Were Living And Breathing It": Sam Taylor-Johnson On Making A Million Little Pieces With Her Husband
by LIAM FREEMAN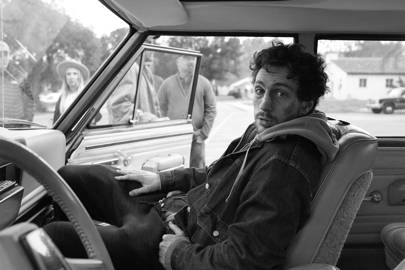 Vogue sat down with James Frey, author of the infamous 2003 memoir A Million Little Pieces, and his friend Sam Taylor-Johnson, who has directed her husband Aaron Taylor-Johnson in a hotly-anticipated film adaptation hitting cinemas next week.
The response to James Frey's 2003 memoir A Million Little Pieces is the stuff most authors only dream of. His unflinching retelling of his alcoholism, drug addiction and subsequent rehabilitation, aged just 23, spent 15 consecutive weeks on the New York Times bestseller list. Three years later, in 2006, controversy hit when it was revealed that Frey had embellished certain details. Yet, while he was publicly criticised for this – in particular by one of his most ardent supporters, Oprah Winfrey; at the time, A Million Little Pieces was the fastest-selling book in her television books club's 10-year history – his captive audience only grew, and to date it's sold more than 10 million copies worldwide.
Frey sold the film rights to A Million Little Pieces in the early 2000s, however, the movie was never made. Until now. Directed and co-written by Sam Taylor-Johnson, a friend of Frey's and director of Nowhere Boy and Fifty Shades of Grey, the film debuted at the 2018 Toronto International Film Festival. Taylor-Johnson collaborated on the script with her husband Aaron Taylor-Johnson, who stars as Frey, and he's joined on screen by Charlie Hunnam, Juliette Lewis and Odessa Young as Frey's fellow patient and girlfriend Lily.
Vogue sat down with Frey and Sam Taylor-Johnson to hear about the making of the long-awaited big screen adaptation.