from Ted Casablanca's The Awful Truth
Caught! James Franco Makes Elevator Friend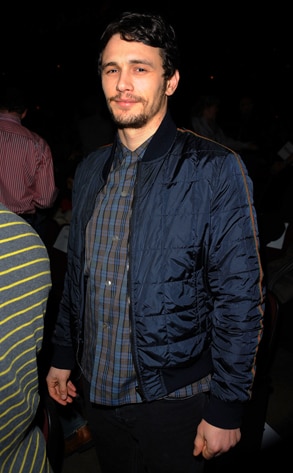 George Pimentel/Getty Images
James Franco hitting up the Damien Hirst opening at the Gagosian Gallery in NYC recently.
Franco kept up his Sundance-sexy, as we're told he looked "hot all bundled up."
He also ran into a certain someone in the elevator who intrigued him…
Another James. Duh.
James Frey, the disgraced writer who is best known as getting "ripped a new one" by Oprah, chatted with the other James on the way up.
Says a fellow elevator spy:
"Frey was all like, 'Hey, James!' and James Franco was all like, 'Hey, James!' And they chatted and it was all friendly."
Somehow we feel like Franco, who just played distinguished author Allen Ginsberg in Howl, should snub Mr. Frey, but whatevs.
As for who else was at the "sausage party" (as our source calls it) of an opening:
Mick Jagger, Bono and Gossip Girl's Matthew Settle.
[ click to continue reading at Ted Casablanca's The Awful Truth ]