James Frey forced to defend literary ethics, four years after Oprah attack
Following Oprah reprimand over first book, the controversial US writer is now accused of exploitation for group writing project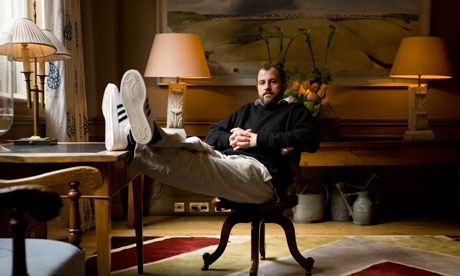 James Frey, the bad boy of American letters who was given a very public dressing-down by Oprah Winfrey over his first book – in which he passed off fiction as memoir – is back in the headlines over his latest venture, a collective writing project that some have accused of being brutal and Dickensian.
Wherever Frey goes, controversy is never far behind. Back in 2003, A Million Little Pieces, sold 8m copies but landed him in trouble after bits of it were found to have been invented.
Up to now, he has never seemed that fazed by the opprobrium heaped upon him. As an author in a crowded US literary market, there is, after all, no such thing as bad publicity.
But judging by his reaction, the reception of his new project, Full Fathom Five, has got under his skin this time.
Frey genuinely sounds peeved at the attack he has come under for what detractors say is exploiting young, unknown writers. "People like to make me out to be a villain. I don't love that. I really have no interest in being cast as a bad boy in this case."
The idea for Full Fathom Five emerged, he says, from his passion for the Harry Potter series. "I loved the Potter books, I read every one the day they came out. I think books are important and I wanted to help keep young people reading them like I did as a kid."
Frey saw collective writing as a way to get around the conundrum of having umpteen ideas for clever commercial book series but never enough time to write them. He also liked the idea of applying the model of an art studio along the lines of those run by Damien Hirst and Jeff Koons to the book world.
So he came up with the concept of a book-writing factory that would go beyond the basic model of existing companies such as Alloy, which use teams of writers to produce books to order.
Ideas for books, or ideally series of books, would either come from him or an author recruited to the Full Fathom Five stable. Then Frey would hold the writer's hand, providing critical feedback as they wrote.
The finished product would be sold to publishers and/or film studios, and the writer would be given a share in the royalties as incentive to produce their best work.
He started to appeal through colleges and writing courses for budding young writers prepared to write for little upfront, in the hope of fame and riches down the line.
Frey now has 30 in his stable and has sold 12 books of three separate series. The first series, Lorien Legacies, which is hung around the conceit of a teenager alien landing in Ohio, has already been launched in the US and in the UK by Michael Joseph/Puffin and is being made into a film by DreamWorks.
The others are The Montauk Project, which centres on a 16-year-old girl who stumbles into a time machine in an old military base that really exists at the end of Long Island, and The Other World Chronicles, a modern retelling of the Arthurian legend which has been optioned by Will Smith's film company.
The good news for Frey is that with such deals already in the bag, Full Fathom Five is off to a flying start. The bad news is the drumbeat of criticism that is building.
It began with one of the lead authors of the first volume of the Lorien Legacies, I Am Number Four, calling in lawyers to represent him in his dealings with Frey. Writer Jobie Hughes complained that he has not been credited for the book, which appeared under a pseudonym. Then New York magazine published an article by a young woman who had been in negotiations with Frey to join his factory but had been dropped by him. The magazine also revealed what it described as the "brutal" terms of the contracts offered to writers.
The contentious elements include: an upfront payment of just $250 (£156) to the writer for an entire book, which is pitiful unless the book is sold, at which point they get 30%-40% of any royalties obtained; the fact that Frey retains all final creative control and the copyright of the work in his company, with total power to decide what happens to the book; and a system of fines if the writer breaks the terms of the contract. A publishing lawyer told New York magazine that he had never seen a contract like it in his 16 years of negotiations.
Frey insists the portrait of him as a ruthless exploiter of youthful talent is wrong on several counts. First, his contracts vary according to the degree of experience of the writer and according to whether the idea for the book came from him or them.
He estimates that the central storyline of about 85% of the books under way originated with him.
Second, the contract is no more nor less "brutal" than standard contracts you would find in the law or film world. "I'm running a business in a highly litigious society. The contract is simply designed to protect Full Fathom Five and our partners like DreamWorks."
As for the credit issue, he says many of the books he will commission will have the authors' real names fully credited. But some will not, as fits the story in question.
I Am Number Four was written in the voice of a 16-year-old alien called Pittacus Lore, and so had that name attached to it to enhance the literary device, as was fully agreed by Hughes, Frey says. Similarly, the character of the 16-year-old girl at the heart of The Montauk Project is credited as the author as a fictional trick.
What seems to have irritated Frey most intensely is the depiction of him as money-grabbing exploiter-in-chief. That is not his motivation at all, he says: "I know I'm the bad boy of American literature, but that's not what this is about. I'm doing this because I love books."
For someone with a reputation as controversial as his, Frey runs the risk of sounding as though he protests too much. Watch this space: this particular controversy has the potential to run and run.