'Deep Throat' porn star Harry Reems dies
Associated Press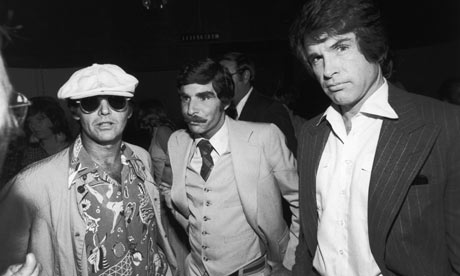 SALT LAKE CITY — Harry Reems, the male star of the 1972 cultural phenomenon "Deep Throat," which brought pornography to mainstream audiences, has died at age 65.
Reems became famous for his role in the adult-film classic "Deep Throat," which drew middle class audiences to the theater and became a forerunner of today's hardcore adult-entertainment industry.
Reems was born in in New York in 1947 as Herbert Streicher. He served in the U.S. Marines before he ended up in the entertainment industry in the 1970s. He aspired to become a serious actor but was thrown in front of the camera while working on the production crew for "Deep Throat."
At the 2005 premiere of a documentary about "Deep Throat" at the Sundance Film Festival, Reems told The Associated Press that the film was the first to "drop any pretense that it had educational value."
"There was no socially redeeming value, and so the word of mouth went out from people who saw it saying 'This is just a comedy. It's great. You've got to see this,'" Reems said.
When the original male lead didn't work out, Reems, the lighting director, stepped in. He played a doctor helping a patient, played by Linda Lovelace, with a sexually sensitive area at the back of her throat. Lovelace died in 2002.
The movie, an unlikely box-office sensation, became a touchstone for obscenity laws and a target for anti-smut activists.
In 1976, Reems was convicted of obscenity for his role in the film and faced a potential five-year prison term. Celebrities including Jack Nicholson and Warren Beatty came to Reems' defense, and the conviction was overturned.