from the AP via SiliconValley.com
Magazine in cockfight dispute agrees to stay off Amazon
Article Launched: 05/21/2008 07:29:51 AM PDT
SEATTLE – A magazine that the Humane Society of the United States says promotes cockfighting has agreed to ask Amazon.com to stop selling its publication online.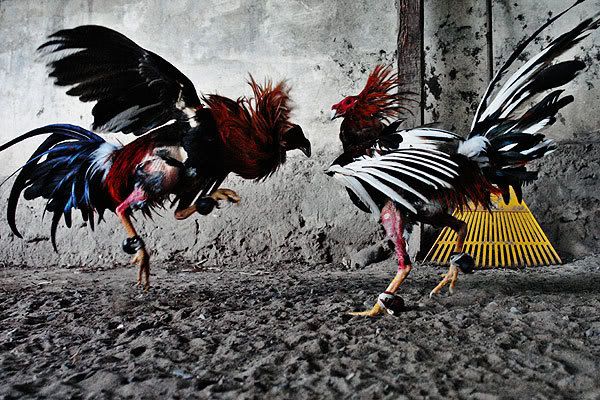 In the lawsuit, the Humane Society accused the online retailer of violating federal animal cruelty laws by selling The Gamecock and The Feathered Warrior, which the group described as cockfighting magazines.
Marburger Publishing Co., which publishes The Gamecock, agreed to settle with the Humane Society because it was a way to remove itself from the case, but the publication does not promote cockfighting or violate a federal ban on the bloody sport, said attorney Ali Beydoun of the law firm Carr Maloney.
A recent federal law added felony-level penalties for activities promoting or encouraging animal fighting. The Animal Fighting Prohibition Act of 2007 also made it a felony to knowingly sponsor or exhibit an animal fight, or to buy, sell or transport knives, gaffs and other weapons used in cockfighting.
Cockfighting is illegal in every state except Louisiana, where a legislative ban goes into effect in August.
Lovvorn called The Gamecock "the oldest and best-known cockfighting magazine in the United States."
Beydoun described the magazine as appealing to "chicken aficionados," focusing on animal care and stories about people who raise chickens and game birds.
"It's a hard magazine to come by. It's not as available as People magazine or Vanity Fair," he said.
About the only places a chicken lover could buy the publication are at an animal feed store or via Amazon, where the publication was offered by a magazine distributor, not the publisher, said Barry A. Fisher, of the Los Angeles law firm Fleishman & Fisher, which also represents Marburger Publishing.
Fisher said the lawsuit isn't really about The Gamecock or The Feathered Warrior.
"Their real target is Amazon," he said.