The Secret Oral History of Bennington: The 1980s' Most Decadent College
Fall, 1982. A new freshman class arrives at arty, louche, and expensive Bennington College. Among the druggies, rebels, heirs, and posers: future Gen X literary stars Donna Tartt, Bret Easton Ellis, and Jonathan Lethem. What happened over the next four years would spark scandal, myth, and some of the authors' greatest novels. Return to a campus and an era like no other.
BY LILI ANOLIK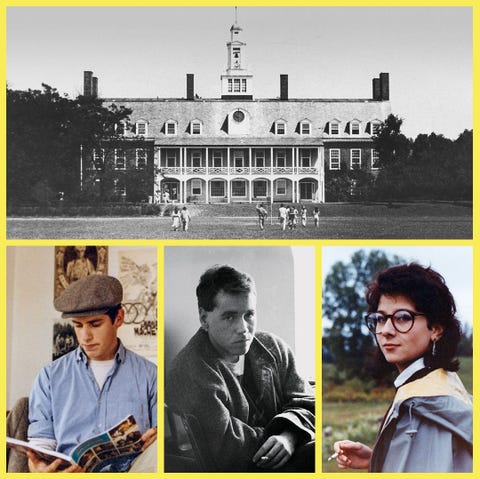 What Café du Dôme was to the Lost Generation, the dining hall at Bennington College was to Generation X—i.e., the Lost Generation Revisited. The Moveable Feast had moved ahead six decades and across the Atlantic, and while, of course, southwestern Vermont wasn't Paris, somehow, in the early-to-mid eighties, it was, was just as sly, louche, low-down, and darkly perdu. And speaking of sly, louche, low-down, and darkly perdu, check out the habitués. Seated around the table, ready to gorge on the conversation if not the food (cocaine, the Pernod of its era, is a notorious appetite suppressant), berets swapped for sunglasses, were the neo F. Scott Fitzgerald, Ernest Hemingway, and Djuna Barnes: Bret Easton Ellis, future writer of American Psycho and charter member of the literary Brat Pack; Jonathan Lethem, future writer of The Fortress of Solitude and MacArthur genius; and Donna Tartt, future writer of The Secret History and winner of the Pulitzer Prize for The Goldfinch. All three were in the class of 1986. All three were a long way from home—Los Angeles, Brooklyn, and Grenada, Mississippi, respectively. All three were, at various times, infatuated and disappointed with one another, their friendships stimulated and fueled by rivalry. And all three would mythologize Bennington—the baroque wickedness, the malignant glamour, the corruption so profound as to be exactly what is meant by the word decadence—in their fiction that, as it turns out, wasn't quite, and thereby become myths themselves.
Every prodigy needs his or her very own Gertrude Stein or Sherwood Anderson—i.e., a mentor and model. Bennington had those in profusion, teachers who were also artists: journalist Joe McGinniss; novelists and short-story writers Nicholas Delbanco and Arturo Vivante; and poet, mystic, and self-chronicler Claude Fredericks. And then there were the supporting figures (and fellow students), so fascinating they threatened to eclipse the main: writers Jill Eisenstadt, David Lipsky, Lawrence David, Reginald Shepherd; Brixton Smith Start, lead guitarist of post-punk British band the Fall; and Quintana Roo Dunne, only child of Joan Didion and John Gregory Dunne.
So grab a tray, pull up a chair, and try not to look like you're eavesdropping.