The quake-maker you've never heard of: Cascadia
By Michael Martinez, Stephanie Elam, and Rosalina Nieves, CNN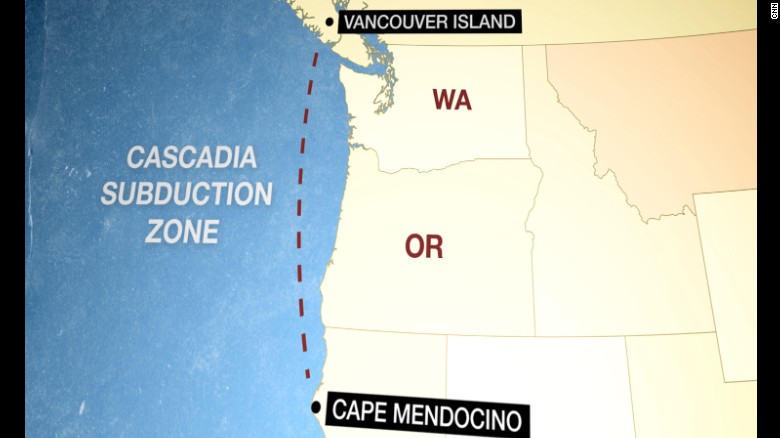 Mother Earth slowly reveals her secrets, and this time, it's a fault line deep in the belly of the planet.
Its name is a whopper: The Cascadia subduction zone.
Its gargantuan size and potential power amaze earthquake experts, who say it could cause the worst natural disaster in the history of North America — if it ruptures entirely.
This quake-maker sits at the bottom of the Pacific Ocean, where the seabed meets the North American tectonic plate. In all, it stretches 700 miles along the Pacific Northwest, from British Columbia's Vancouver Island to Washington to Oregon to northern California's Cape Mendocino.
In fact, "the Cascadia" already has made history, causing the largest earthquake in the continental United States on January 26, 1700. That's when the Cascadia unleashed one of the world's biggest quakes, causing a tsunami so big that it rampaged across the Pacific and damaged coastal villages in Japan.
Now it's a question of when the Cascadia will strike again, scientists say.
That big one could "hit at any time," and there's even a website called Aftershock that allows Oregonians to enter their address for a custom report on seismic risks. If the Cascadia were to experience a large-magnitude earthquake, the temblor and resulting tsunami could kill more than 11,000 people and injure more than 26,000, according to one FEMA model.