What Drives Writers to Drink?
Seeking in the eloquent benders of Dylan Thomas and Herman Mankiewicz an answer to an ancient riddle
by JAMES PARKER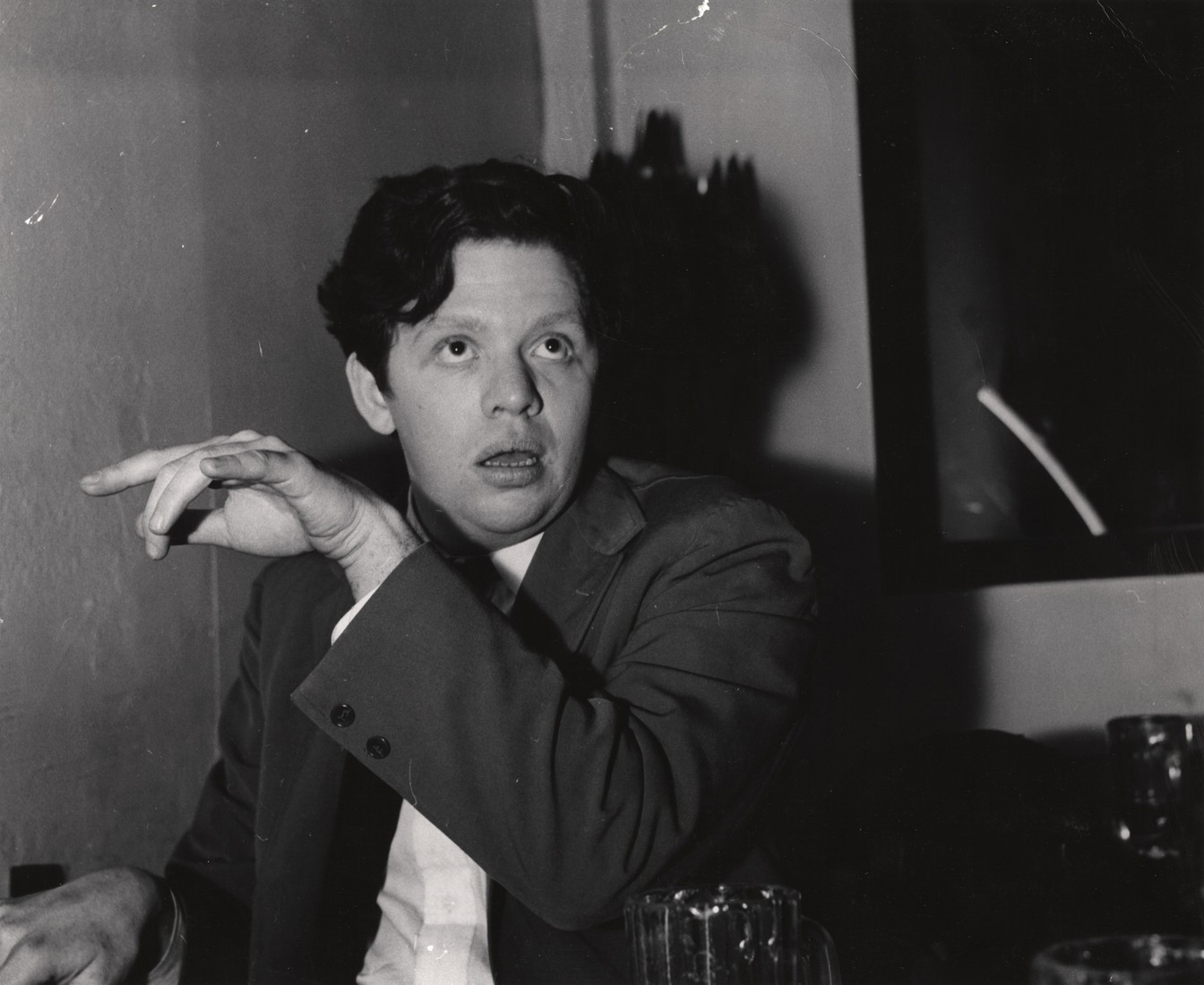 A portrait of the Welsh poet Dylan Thomas (1914–1953) sitting in an unidentified bar in the early 1950s. (Weegee / International Center of Photography / Getty)
The drunk guy. What are you going to do with the drunk guy? He's holding forth, he's sucking up air, he's rhetorically inflated, he's ruining everything, and no possible appeal to decency or art can stop him. A bucket of cold water might answer. Or a Vulcan nerve pinch. Otherwise, you're just going to have to take it, you and everyone else, sinking deeper into a kind of frozen grave of disaffection, an icy bed of umbrage, as he goes on and on, drunk on himself, drunk on being drunk, drunk.
And it's even worse if the drunk guy is a writer. Because not only are writers very tricky—viciously down on themselves, impossibly in love with this or that, squirting little shafts of bile or ambrosia from secret writer glands—they also have language. Their drunk-guy monologues will not, unfortunately, be without interest. They might even be—as lights flutter out in the brain—somewhat creative.
David Fincher's Mank, now streaming on Netflix, and Steven Bernstein's Last Call, which I saw recently in a fantastically deserted AMC theater, both feature protracted drunk-writer monologues, because both movies have a drunk writer for a leading man. In Mank, it's Herman "Mank" Mankiewicz, the screenwriter who gave us Citizen Kane; in Last Call, it's Dylan Thomas, the Welsh poet who gave us … Dylan Thomas. Mank was brilliant; Thomas was a genius. Drunk guys that they frequently were, neither man, to put it mildly, was without insight. What can they teach or impart to us about writing and booze?