Why Low-Budget Horror Is Thriving This Summer
These dirt-cheap productions are making money, finding eager audiences, and garnering critical praise during a largely dead box-office season.
by DAVID SIMS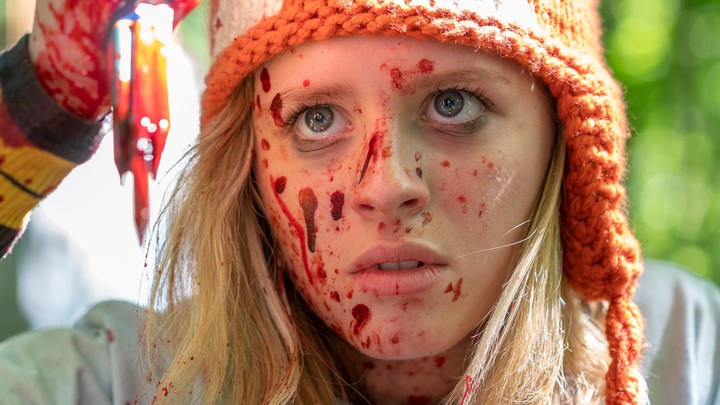 The gory thrills of Becky make the film solid drive-in theater viewing. QUIVER
Only during a global pandemic would the biggest film in the U.S. be not a superhero blockbuster or a Fast and the Furious sequel, but a low-budget horror movie about a teenage boy in the suburbs doing battle with a witch living next door. Thanks to the coronavirus disrupting the usual summer release schedule, The Wretched now belongs to a tiny group of films that have topped the U.S. box office for five weekends in a row, including Titanic and Avatar. Yes, those massive movies made a little more money (The Wretched pulled in a healthy $1.7 million at drive-in theaters) and faced slightly tougher competition. But it's still surreal to acknowledge that, for the entire month of May, cinemagoers were most drawn to a weird little film with a naked woman wearing a deer skull on its poster.
And yet, most of the other films that have conquered the box office this summer are also dirt-cheap horror efforts: Becky, which features the comedy star Kevin James as a murderous neo-Nazi; Followed, a haunted-house thriller that plays out entirely on a computer screen; and, most recently, Relic, an Australian horror drama that was well received at this year's Sundance Film Festival. Under normal circumstances, these films would've followed a similar release pattern—a limited U.S. theatrical run combined with instant availability to rent online. Now they're practically the only new films available for viewing at the country's outdoor screens, with regular theaters shut down by the pandemic. It turns out that inexpensive horror flicks, which have been part of the Hollywood ecosystem as long as cinema has existed, are thriving as a result of a sparse film landscape and a largely quarantined moviegoing populace.