"Blowing Smoke Up Your Ass" Used to Be Literal
by Terynn Boulton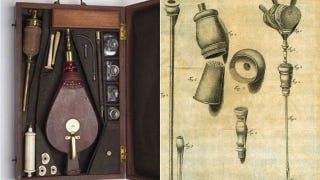 When someone is "blowing smoke up your arse" today, it is a figure of speech that means that one person is complimenting another, insincerely most of the time, in order to inflate the ego of the individual being flattered.
Back in the late 1700s, however, doctors literally blew smoke up people's rectums. Believe it or not, it was a general mainstream medical procedure used to, among many other things, resuscitate people who were otherwise presumed dead. In fact, it was such a commonly used resuscitation method for drowning victims particularly, that the equipment used in this procedure was hung alongside certain major waterways, such as along the River Thames (equipment courtesy of the Royal Humane Society). People frequenting waterways were expected to know the location of this equipment similar to modern times concerning the location of defibrillators.
Smoke was blown up the rectum by inserting a tube. This tube was connected to a fumigator and a bellows which when compressed forced smoke into the rectum. Sometimes a more direct route to the lungs was taken by forcing the smoke into the nose and mouth, but most physicians felt the rectal method was more effective. The nicotine in the tobacco was thought to stimulate the heart to beat stronger and faster, thus encouraging respiration. The smoke was also thought to warm the victim and dry out the person's insides, removing excessive moisture.