The Polaroid production line
Everyone who was anyone posed for a Warhol snapshot. Jonathan Jones on a compelling show of celebrities in the raw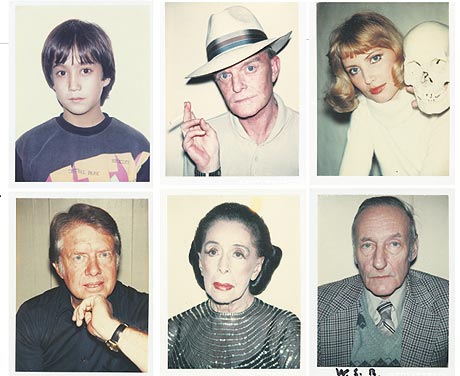 Mark Rothko was once at a party in New York when Andy Warhol walked in, with his entourage of superstars. Warhol heard Rothko complain bitterly to the host: "How could you let them in?" The two great American artists were not exactly drinking buddies – so it's a strange twist that a Warhol exhibition should open in London this week, coinciding with a retrospective of his antithesis, Rothko.
Rothko thought Warhol represented the worst things about America: consumerism, celebrity, superficiality, you name it. But the two artists may have had more in common than you might think. In the early 1990s, New York's MoMA put on a great display of abstract paintings from the 1940s and 50s. At the end, some curator put Warhol's Orange Car Crash Fourteen Times (1963). It was totally right. Warhol's tragic subject matter, held in a saturated field of colour, shared the pathos and power of the abstract expressionists, but with less introspection, and more interest in others.
This was abstract reportage, and its compassion, its determination to bear witness, was almost unbearable.
Other Voices, Other Rooms was a novel by Warhol's favourite writer, Truman Capote. The Hayward's Warhol retrospective has adopted this as its title, as if to underline the artist's readiness to listen to, and look at, other people. It features Warhol's films, screen-tests, videos – and his Polaroids, which it rightly hails as works of art in their own right, even though they were actually used by Warhol as aids for painting portraits. They are strangely compelling images: one of the great humanising threads running through his factory-like output is his fascination with portraiture. The Polaroids provide a fascinating insight into this man who wanted to capture the world like a camera.