6 Tips for Getting the Most from a Liberal Arts College
by Adam Weinberg  – President, Denison University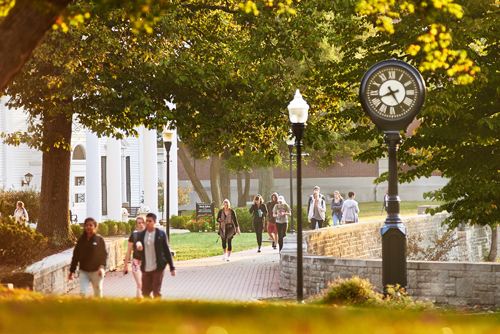 In just a few weeks, thousands of students will go off to a residential liberal arts college, including two of my own children. So what does success look like at college? Why are the first six weeks so critical? And how do the components of a liberal arts education — academics, co-curricular learning and community — come into play?
Here are six pieces of advice I would offer for getting the most out of your next four years, while setting yourself up to thrive for the rest of your life.
1. Dive into a full range of courses. This is why you are here. An adventurous mixture of courses will teach you more than you can imagine. So lean in. Learn to communicate effectively, especially to write well. Work with numbers and data. Weave disparate ideas into new ways of thinking. Frame questions. Argue. Create. Do research. The true advantage of a liberal arts education is that it will prepare you — and I mean you, as a unique individual — to identify the kind of life you want to lead. It also will help you develop the skills, values, and habits to take on that life and be successful. All of this is built upon a foundation of learning across different disciplines, including some areas of study that will be totally new to you.
Taking a wide range of classes is more important now than ever. It prepares you for just about anything. Professions change. The economy goes up and down. Being a great learner who is unafraid of unfamiliar territory makes you adaptable, creative and entrepreneurial. It helps you do well in life — as a colleague, a parent, a leader, a citizen and a friend. Worry less about matching your major with a profession. Worry more about becoming knowledgeable, discerning, skilled and dependable. That is the job candidate who gets hired.
2. Get to know your professors. Truth is, the most important factor in college is mentorship, and student-faculty interactions are the magic of the liberal arts. So step up, and step into your classes. Build relationships with your professors. Take full advantage of their passion for working with students. The professors who have chosen to teach at a liberal arts college have done so for a reason: you. Liberal arts professors are engaged on the front lines of learning, and they love to see the spark that happens when students get excited about an idea. Seek out faculty who can be your mentors. Say hello before class. Go to their office hours. Invite them out for coffee. And engage them when you are struggling. They are terrific guides through your college experience. I can't say this enough: don't be afraid or shy about going to see your professors. They want to help.
3. Bring a passion and develop a new one. Many students select a liberal arts college because they have a particular passion they want to pursue. Maybe it is athletics, or arts or community service. You already know you love it, and liberal arts colleges provide amazing opportunities to keep at it.