White gold: the unstoppable rise of alternative milks
How wellness upstarts spoiled milk's healthy reputation – and built a billion-dollar industry from juicing oats and nuts.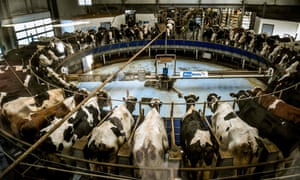 Cows being machine-milked in France in 2017. Photograph: Philippe Huguen/AFP/Getty Images
In the spring of 2018, New York was gripped by a sudden, very particular and, for some, calamitous food shortage. Gaps appeared on grocery shelves. Coffee shops put out signs, turning customers away. Twitter and Instagram brimmed with outrage. The truly desperate searched from Williamsburg to Harlem, but it seemed undeniable: New York was out of oat milk.
It wasn't just New York, in fact. The entire US was suffering from a shortage of Oatly, a Swedish plant milk whose rapid rise from obscure digestive health brand to the dairy alternative of choice had caught even Oatly by surprise. Since its US launch in 2016, Oatly had gone from supplying a handful of upscale New York coffee shops to more than 3,000 cafes and grocery stores nationwide. The company had ramped up production by 1,250%, but when I spoke to CEO Toni Petersson in late summer, they were still struggling to meet demand. "How do we supply when the growth is this crazy?" Petersson said.
Fortunately, when it comes to milk, in 2019 there is no shortage of alternative alternatives. Visit your local supermarket and you will find a refrigerated aisle overflowing with choice: almond milk, hazelnut milk, peanut, tiger nut, walnut, cashew – and that's just the nuts. Coconut, hemp, spelt, quinoa, pea – you name it, somewhere a health-food startup is milking it. London tube stations are filled with ads for new plant milks – or rather, "mylks" (EU law prevents dairy alternatives from using the word milk if it isn't produced by a lactating mammal). Cookbooks dedicate entire chapters to blending and straining your own. Sainsbury's now stocks around 70 different options. There are the wellness punks (Rebel Kitchen, Rude Health), the dairy puns (Malk, Milkadamia, Mooala) and the nourishers (LoveRaw, Good Karma, Plenish). "People are just looking at every nut that exists and seeing if they can squash it into a milk," said Glynis Murray, one of the owners of Good, which squashes hemp seeds into oil and milk.