Astronomers to Check Mysterious Interstellar Object for Signs of Technology
Russian billionaire Yuri Milner says if the space rock 'Oumuamua is giving off radio signals, his team will be able to detect them—and they may get the results within days.
by MARINA KOREN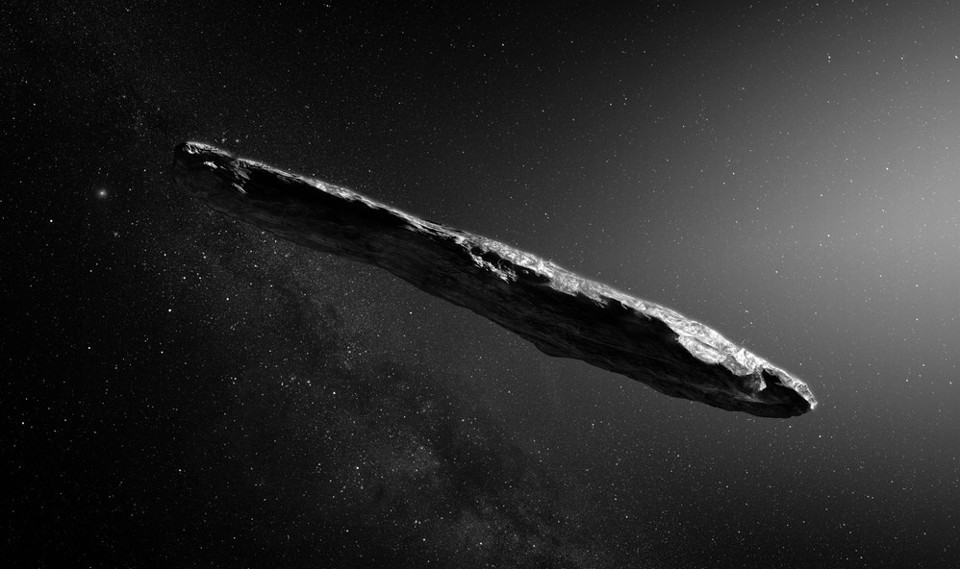 An artist's impression of the interstellar asteroid 'OumuamuaESO / M. Kornmesser
The email about "a most peculiar object" in the solar system arrived in Yuri Milner's inbox last week.
Milner, the Russian billionaire behind Breakthrough Listen, a $100 million search for intelligent extraterrestrial life, had already heard about the peculiar object. 'Oumuamua barreled into view in October, the first interstellar object seen in our solar system.
Astronomers around the world chased after the mysterious space rock with their telescopes, collecting as much data as they could as it sped away. Their observations revealed a truly unusual object with puzzling properties. Scientists have long predicted an interstellar visitor would someday coast into our corner of the universe, but not something like this.
"The more I study this object, the more unusual it appears, making me wonder whether it might be an artificially made probe which was sent by an alien civilization," Avi Loeb, the chair of Harvard's astronomy department and one of Milner's advisers on Breakthrough Listen, wrote in the email to Milner.