Egg McMuffin inventor dies aged 89
Rachel Stevenson and agencies, guardian.co.uk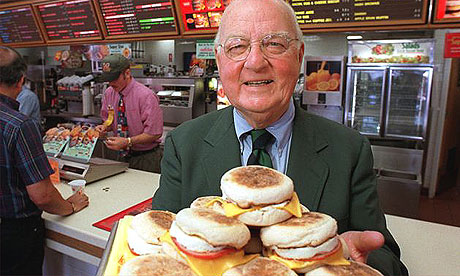 The man who brought breakfast to McDonald's when he invented the Egg McMuffin has died at the age of 89, it was reported today.
Herb Peterson, who began his career with the fast food chain while working for its Chicago-based advertising firm, died peacefully at his home in Santa Barbara, California, yesterday.
While working on the McDonald's account, Peterson came up with the chain's first national advertising slogan – Where Quality Starts Fresh Every Day.
He then took over the running of a number of McDonald's outlets, and at the time of his death was the co-owner and operator of six restaurants in California.
Partial to eggs Benedict and keen to crack the market for morning trade, Peterson began working on a new sandwich for the fast food chain in the 1970s.
Breakfast had not even been an option at McDonald's before then, but in 1972 Peterson launched the Egg McMuffin at his one of his own restaurants in Santa Barbara.
The sandwich consisted of an egg that had been cooked in a Teflon circle with the yolk broken, topped with a slice of cheese and grilled Canadian bacon.
It was served open-faced on a toasted English muffin, and went on to become one of the most ubiquitous items on the McDonald's menu.
Although semi-retired, Peterson still visited all six of his stores in the Santa Barbara area until his health began to deteriorate last year.
"He would talk to the customers, visit with the employees – he loved McDonald's," Monte Fraker, a colleague from Santa Barbara, said.
 "He embraced the community and the community embraced him. We loved the man."