Sol Yurick obituary
American novelist best known for The Warriors, a tale of gangs and street violence in New York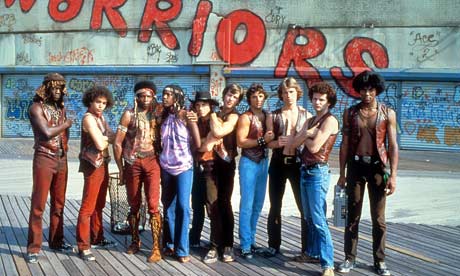 Cast members of The Warriors, the film of Yurick's novel, which became a cult classic. Photograph: Moviestore Collection/Rex Features
The American novelist Sol Yurick, who has died aged 87, was too radical, too extreme and too violent for the respectable literary establishment of New York, yet no writer more fully embodied the city's anguished spirit in the 1960s. His novels The Warriors (1965), Fertig (1966) and The Bag (1968) constitute a trilogy of vibrant energy, biting satire and high, though irreverent, artistic seriousness.
The Warriors, a tale of gangs and street violence, was rejected by 27 publishers before it finally appeared. With its carefully crafted parallels with Xenophon's Anabasis, it was more literary than Hubert Selby Jr's Last Exit to Brooklyn (1964), but shared its gritty feel for the city's underclass. In 1979 it was made into a stylish film by Walter Hill. Vincent Canby in the New York Times considered the film "a mish-mash of romantic cliches, moods and visual effects".
Yurick, who thought it trashy and sentimentalised, agreed. After the New York premiere, his daughter, Susanna, said: "It's all right, daddy, the kids will love it." And they did. The Warriors became a cult classic, later embraced by hip-hop acts including the Wu-Tang Clan, spoofed in a Nike commercial and adapted as a PlayStation 2 game.
Hill's movie drew upon comic-book characterisation but Yurick, who came out of the proletarian belly of New York, knew better. His parents, Sam and Flo, immigrants from eastern Europe, were communists and trade-union activists. Marx and Lenin, strikes and demonstrations, were regular topics of dinner-table conversation. His earliest political memory was, at the age of 14, the anguish he felt at the Stalin-Hitler pact.