Orchards may vanish by the end of the century, conservationists warn
Natural England and National Trust project launched to preserve rare varieties of apples, pears and plums, bring communities together and protect biodiverse habitats
Steven Morris
Friday 24 April 2009 00.05 BST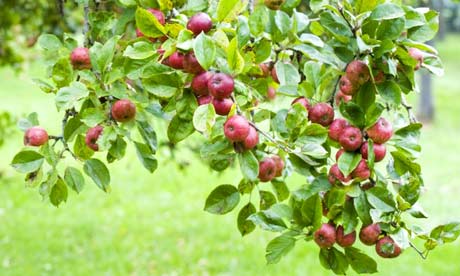 Small traditional orchards could vanish from the British landscape by the end of the century unless action is taken to save them, environmental experts and campaigners warned yesterday.
Natural England and the National Trust claimed 60% of England's orchards had isappeared since the 1950s as they launched a £500,000 project aimed at halting the decline. The crisis has been even worse in some areas, such as Devon, which has lost almost 90% of its orchards.
The organisations argued that if nothing was done, a focal point for communities across the country and a crucial habitat for flora and fauna could be wiped out forever.
The loss of orchards would be accompanied by a huge loss of apple varieties, some unique to just a few square miles, and many of them with wonderfully eccentric names such as the Hangy Down, the Oaken Pin and Polly White Hair.