from International Business Times
Michelangelo secretly painted symbols of female anatomy on Sistine Chapel ceiling
Michelangelo may have hidden symbols as dissection of human body was banned by Catholic Church.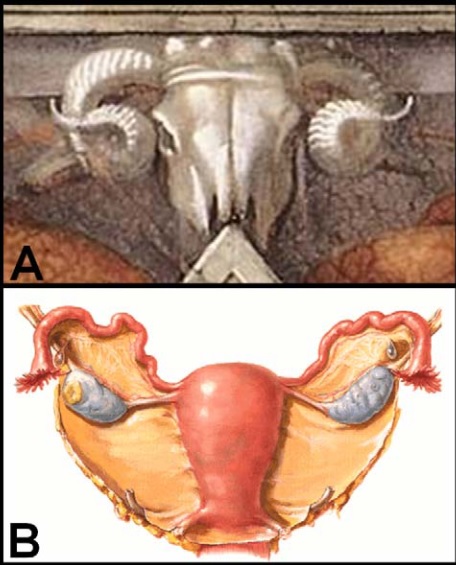 Close-up of the ram skull with female anatomy diagramDeivis de Campos et at/Wiley/ Clinical Anatomy
Michelangelo secretly painted symbols of the female anatomy on the ceiling of the Sistine Chapel, a team of researchers have said. In analysing the central fresco, The Creation of Eve, a team led by Deivis de Campos of the UFCSPA in Brazil claims there are several representations of female anatomy the artist likely concealed, potentially as a subversive act and to hide his knowledge of anatomy through dissection.
In their study, published in the journal Clinical Anatomy, the team notes that much Renaissance art contains an inner meaning – including animals depicted, positions of characters and juxtapositions. Michelangelo, as an anatomist, may have felt the need to conceal elements of his paintings via symbols.
The team used imaging software to analyse the ceiling of the Sistine Chapel to look for representations of human anatomy. Depictions of female anatomy are normally associated with a downward pointing triangle, while those for males would be upwards pointing.
They found the position of Eve's arm and forearm "clearly resembles the shape of an inverted triangle … thus, in the exact centre of the Sistine Chapel's ceiling … Michelangelo may have placed a notorious pagan female symbol".