St. Louis gallerist curates his first show at a significant New York gallery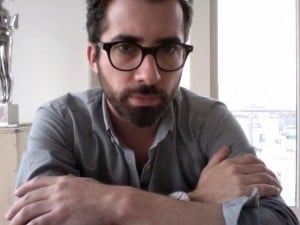 MATT AT BAT: Local art gallery operator and curator, Matt Strauss, who has become bi-coastal in the past couple years, had his first curated show at a NYC gallery open on Friday.
Although it was a frigid night, there were some ex-pat St. Louisans mingling among the Right Coasters at the opening at the Renwick Gallery, 45 Renwick Street in Soho.
Cole Root, director of St. Louis' Los Caminos gallery who moved to New York last year was at the opening, as was artist Erik Spehn, who also left the STL for NY over the past couple years, curator Marie Heilich and artist Megan Marrin. Notable New Yorker's in attendance included artists Tommy Hartung and Tony Matelli, author James Frey, and gallerists Michelle Maccarone, Lisa Cooley and Tyler Dobson.
Strauss said the artists whose work is in the exhibition are mostly high-level artists he's shown at his White Flag Projects gallery, 4568 Manchester Avenue.