LA store's shirts flying off shelves after drug kingpin El Chapo wears design
Before he was captured, Joaquín 'El Chapo' Guzmán was photographed wearing a paisley shirt from the Barabas boutique. Now 'sales are skyrocketing'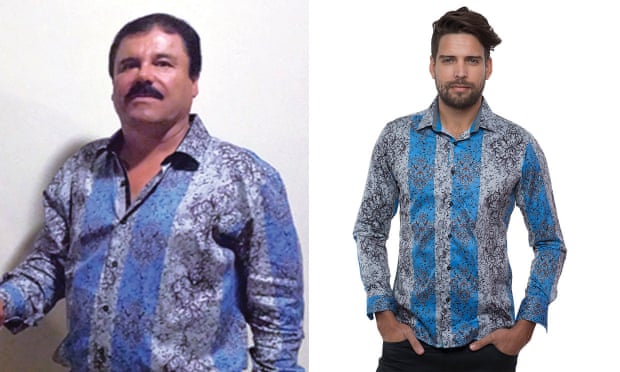 A most-wanted shirt after a most-wanted man was caught wearing it. Composite: REX FEATURES and Handout
Vito Corleone had a tuxedo, Al Capone a cigar and overcoat, and Pablo Escobar a white blazer and blue tie. Their spiritual successor in organized crime, Joaquín "El Chapo" Guzmán, has chosen a style inspired by Eleanor Roosevelt and Coco Chanel, and designed by two Jewish Iranian brothers from Los Angeles.
El Chapo, a Mexican cartel lord so wealthy that he landed on Forbes' list of billionaires in 2009, was recaptured last week in part because actor Sean Penn visited him for the magazine Rolling Stone.
The shirt was, apparently, a design from the Barabas boutique in Los Angeles' Fashion District.
"It's not about that he's an international criminal," store owner Shawn Esteghbal told the Guardian. "But we're excited because he could buy anything, he could buy Versace, any other brand, but to choose our brand, our designs!