Dorothy Must Die by Danielle Paige – review
'Dorothy was a monster. A completely terrifying, sweet-talking, party-obsessed, mean, creepy monster'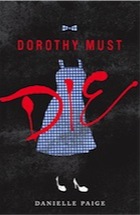 Amy Gumm was just a girl from Kansas: unpopular, lippy and practically hunted by her school's very own personal demon, the "ever lovely" Madison Pendleton. Then, one day, a tornado hits her home and Amy is swept away to Oz. Only, it's not the Oz she's read about, this Oz has no cheerful munchkins or joyful parades; here in Oz Dorothy rules, and Oz has paid a heavy price for it. Torture, imprisonment and evil punishments are all Amy finds in this new, drained version of the magical land she knew as a child, and she's a much bigger part of it than she thinks. She's been recruited by the Revolutionary Order of the Wicked with one mission and one mission only: Dorothy must die.
I'll admit, at first I didn't understand all the hype over this book; I mean, a retelling of the Wizard of Oz where Dorothy is evil? It kind of just sounded bizarre. But THEN, I read it and whoa. This book was insanely addictive, it blew me away on so many different levels. Dorothy was a monster. A completely terrifying, sweet-talking, party-obsessed, mean, creepy monster. She is the queen of evil characters in YA. Her insanity just pours out of the pages along with her unnatural lip glossed smile and hypnotic red heels. Yes, the ruby slippers are hypnotic. Paige went there.
As for our heroine Amy Gumm, how can we not adore her? She's feisty, brave, insecure, grounded, sarcastic (ALWAYS sarcastic, I have never loved dialogue in a novel more) and most importantly, real! She isn't your typical, crazy talented, beautiful selfless character, she has a real story and a personality you can really relate to.